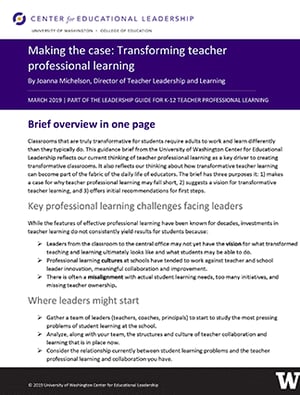 Classrooms that are truly transformative for students require adults to work and learn differently than they typically do. This guidance brief reflects our thinking about how transformative teacher learning can become part of the fabric of the daily life of educators. The brief has three purposes, it: (1) makes a case for why teacher professional learning may fall short, (2) suggests a vision for transformative teacher learning, and (3) offers initial recommendations for first steps.
Key professional learning challenges facing leaders
While the features of effective professional learning have been known for decades, investments in teacher learning do not consistently yield results for students because:
Leaders from the classroom to the central office may not yet have the vision for what transformed teaching and learning ultimately looks like and what students may be able to do.
Professional learning cultures at schools have tended to work against teacher and school leader innovation, meaningful collaboration and improvement.
There is often a misalignment with actual student learning needs, too many initiatives, and missing teacher ownership.
Download the guidance brief using the form on this page
This guidance brief is part of a new resource, The Leadership Guide for K-12 Teacher Professional Learning, for leaders in classrooms, schools and school systems who want coherent, authentic, sustainable, and effective teacher learning aimed at improving outcomes for students. This multipart guide will provide practical guidance for leaders, whether they are making the case for transforming teacher learning in their setting, implementing a sustainable approach, or seeking support for scaling and extending effective practices.