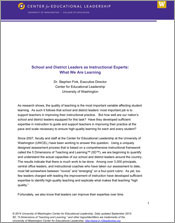 As research shows, the quality of teaching is the most important variable affecting student learning. As such it follows that school and district leaders' most important job is to support teachers in improving their instructional practice. But how well are our nation's school and district leaders equipped for this task? Have they developed sufficient expertise in instruction to guide and support teachers in improving their practice at the pace and scale necessary to ensure high-quality learning for each and every student?
Since 2007, faculty and staff at the Center for Educational Leadership at the University of Washington (UWCEL) have been working to answer this question. Using a uniquely designed assessment process that is based on a comprehensive instructional framework called the 5 Dimensions of Teaching and Learning™ (5D™), we are beginning to quantify and understand the actual capacities of our school and district leaders around the country. The results indicate that there is much work to be done. Among over 4,000 principals, central office leaders, and instructional coaches who have taken our assessment to date, most fall somewhere between "novice" and "emerging" on a four-point rubric. As yet, too few leaders charged with leading the improvement of instruction have developed sufficient expertise to identify high-quality teaching and explicate what makes that teaching "high quality."

Fortunately, we also know that leaders can improve their expertise over time.