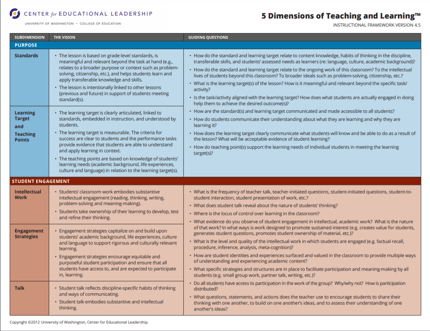 Developed from multiyear research efforts at the University of Washington, the 5 Dimensions of Teaching and Learning instructional framework is a comprehensive reflection of the core elements of effective teaching. The 5D™ instructional framework provides a common language of instruction that defines teaching and learning along five dimensions: purpose, student engagement, curriculum and pedagogy, assessment for student learning, and classroom environment and culture.
The 5D instructional framework is a tool to help schools and districts successfully implement high-quality instructional practices. The tool can be used as the "lens" for classroom observations, as a guide for teachers, and as a reference during lesson planning and staff meetings about instructional practices.
The 5D instructional framework is closely aligned to CEL's 5D+ Teacher Evaluation Rubric. Together, these two tools provide teachers, principals and district administrators the means to increase consistency in conversations about instruction.
To support the use of the 5D instructional framework, CEL offers customized 5D professional development including 5D overview sessions, guided classroom walkthroughs using the 5D instructional framework, and personalized leadership coaching. The 5D Assessment measures a leader's capacity to analyze quality teaching and learning.